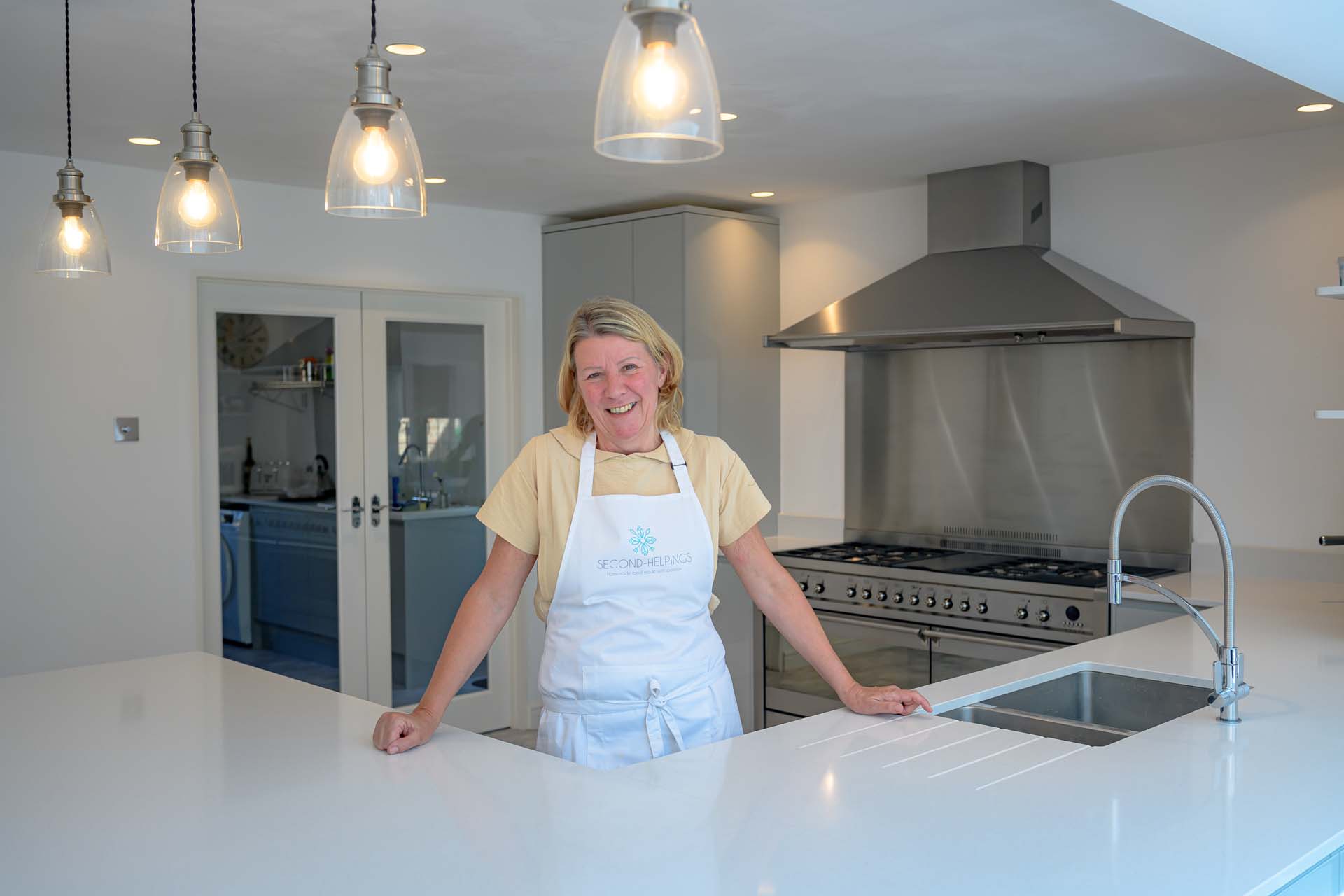 Special Offer Feb/March 2022: 4-Course Luxury Cream Tea
Second Helpings
2022-02-06T15:39:35+00:00
BARBARA DAVIDSON, FOUNDER
I am passionate about cooking and have been told on numerous occasions that I should take it up professionally. However, the thought of being stuck in an overly busy kitchen sweating over hot stoves cooking for people I do not meet does not appeal. I am at my happiest when cooking for friends and family from my kitchen at home and I entertain frequently, always trying to impress and wow my guests with delicious seasonal menus.
Starting a small, exclusive catering business has been a concept for some time but family and work commitments have always taken priority until very recently when I was made redundant. Happening weeks before a BIG birthday, it came as a huge shock but was the jolt I needed to make my dream a reality.
I'm a self-taught home cook, obsessed with cookery books and food programmes. I have fond memories of the TV programme MasterChef, hosted by Loyd Grossman first starting in 1993 and collected the whole series of magazines which were published at the time listing all the menus – I've been hooked ever since!
The name Second-Helpings was born when I took a roasted tomato, parmesan and basil quiche into work one day and every one asked for seconds; it seemed like an ideal name for a catering business and everyone agreed – thank you to Deb (my ex-boss) who came up with the name!
With the help of award winning local suppliers, we produce simple, delicious home cooked food made from fresh wholesome ingredients.
Award Winning Fishmongers Veasey & Sons in Forest Row.
"The best butcher in the area by a country mile" ….. Nick the Butcher, Hartfield
Master Smokers for over 50 years, Springs Smokery, Edburton
Saatchi acclaimed Artist Barry Wilson – The fragility of beauty…."The aim of my paintings has been to emulate a faint image in an antique mirror or a creased and faded much loved photo. I believe the delicate, fragile beauty of gold leaf and the fresh, translucent quality of Oil paint belies the somewhat brutal techniques I employ. These include using industrial spray guns, scouring pads and water jets, scrubbing back the layers of paint to reveal the gold leaf base which seems to give the structure / framework of the painting. I believe the result is a vibrant and edgy captured moment; contemporary and beautiful." Barry's highly distinctive paintings have been exhibited in major museum and galleries worldwide with international acclaim, winning the celebrated Saatchi award in 2011.
King's Fine Food – Laura King, founder of King's, is widely regarded as the UK's leading caviar expert and was the first caviar importer to introduce DNA testing to guarantee the provenance of King's caviar. She is a self-confessed 'foodie'. And her passion and drive take her to the four corners of the globe to source the world's very finest foods.
Women Talking – Online Magazine. Website especially for women. Features, advice, exclusive celebrity videos, goodies galore.
Affordable Granite is a family-owned business that has been trading in Surrey since 2003. We have extensive experience, having fitted many thousands of solid stone (granite and quartz) worktops across the South East. We had the privilege of installing the Blanco Paloma quartz worktops for Barbara's kitchen at Second Helpings, and are really glad of this link with another quality business in our area.