DECEMBER UPDATE –
End of the year update from Second Helpings
Christmas Wreath and Festive Floral Demonstations
The Christmas Wreath and Festive Floral Demonstration in early December was a huge success and plans are already in the making for an Easter/Spring Floral Demonstration in April next year.
Ladies who attended were truly impressed by Tess Moore's beautiful displays and left inspired to create their own creations to adorn their tables and front doors. The informal three-course lunch was enjoyed by all and festive treats & other goodies were taken home to enjoy.
Thank you to Tess for making the day so special!
Christmas Fairs
This was a first for Second-Helpings to attend Christmas fairs, Note to self  …. Never, ever do two in a row!! Thanks to Nigel and the social committee at Charters Village for inviting us to take part in their Christmas fair. So much effort went into decorating the rooms and making everyone feel welcome. The hand knitted chain decorations were out of this world!! There was a truly wonderful atmosphere with so many interesting stall holders and delightful gifts to purchase and the smell of delicious mulled wine topped it all off.
The following day we were at Dunnings Mill –  the weather wasn't so kind (a bitter wind, sideways drizzle and a rather unfriendly Yucca plant digging into the back of my neck) so being outside was rather a challenge, but lots of people attended and over £700.00 was raised for two local charities. Thank you so much to Lisa McNamara at The Old Dunnings Mill and Danielle Nightingale and her team for organisation such a lovely event – looking forward to the next one!
Mince Pies & Lemon Meringue Bites for local Charity.
'Being Neighbourly' set up in March 2020 by Fiona Haywood, is a support group for people living in East Grinstead and the surrounding area who may need assistance not just during the COVID-19 crisis but beyond. Together with East Grinstead Lions club and the Meridian Rotary, Being Neighbourly delivered 100 Christmas goodie bags to 100 local residents and Second-Helpings was delighted to take part. We made 300 lemon meringue bites and 300 mince pies with a crumbly orange, spicy topping and packed them up in boxes of 6 –  thanks to my family for the little production line in packing up all the delicious bites! Paul and I will be volunteering for this amazing charity next year.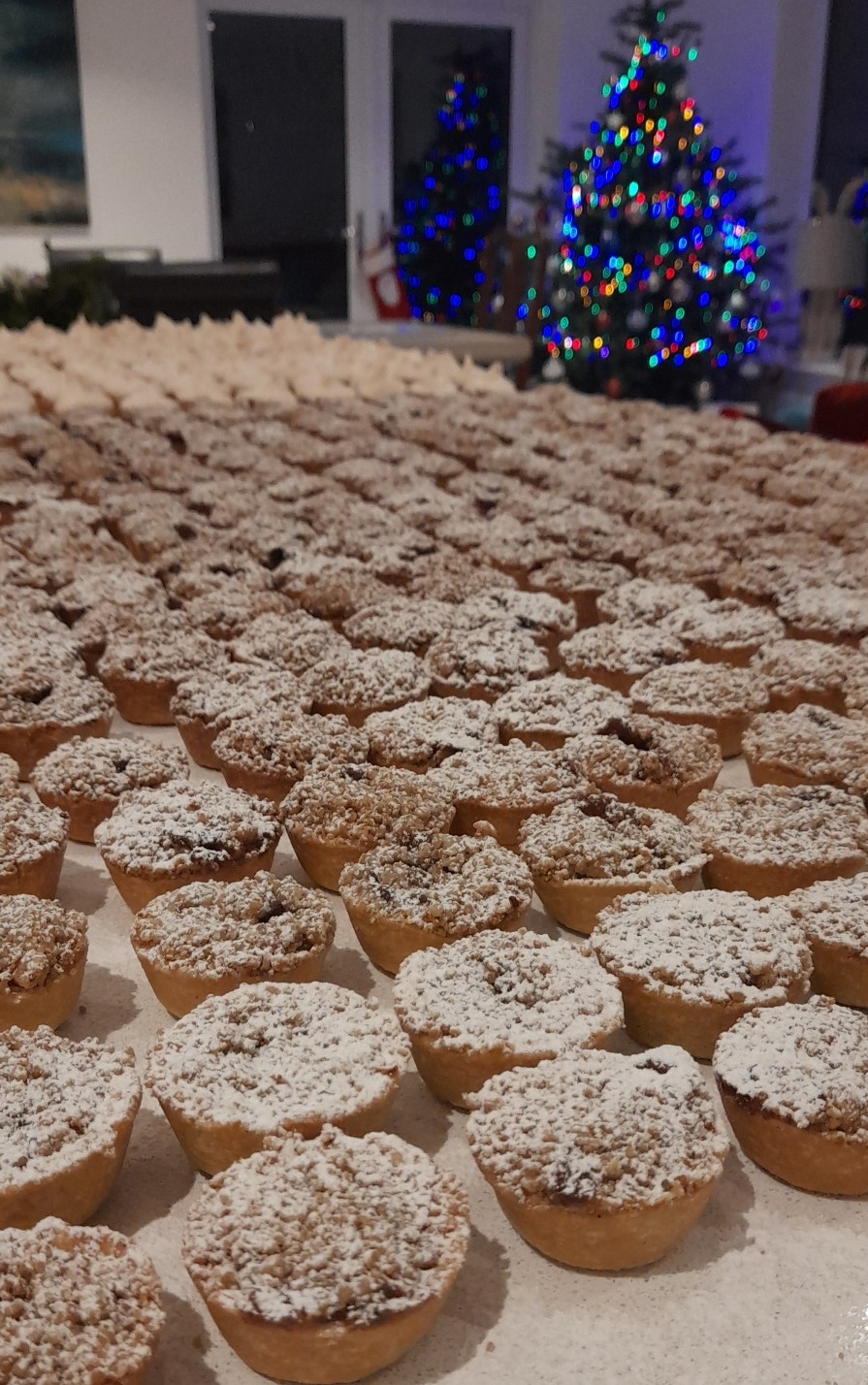 Thanks to the lovely people that came along to celebrate in December.
And Finally….Plus Plans for 2022
The Elves have gone for another year, the advent calendars are empty, the chocolates almost finished, the Christmas rubbish is piled up ready to be taken away and now we are planning a very small, private and relaxing New Year's Eve celebration.
I would like to thank all the amazing people who have visited Second-Helpings over the festive period, thank you for taking lateral flow tests before you came and for all the lovely cards, flowers and other goodies. It was a privilege for me to share your celebrations and soak up the love, the constant laughter and the joy!
Coming next year. Jazz lunches // Lunches with Guest Speakers //  Floral demonstrations // Cooking demonstrations and much more!
Recipe of the Month – Mince Pies
These taste out of this world when served warm with brandy butter or with one of those delicious flavoured thick creams, or ice cream or custard!!