SEPTEMBER UPDATE – Friends & colleagues reuniting. The celebrations and fun continue.
Alumni Reunion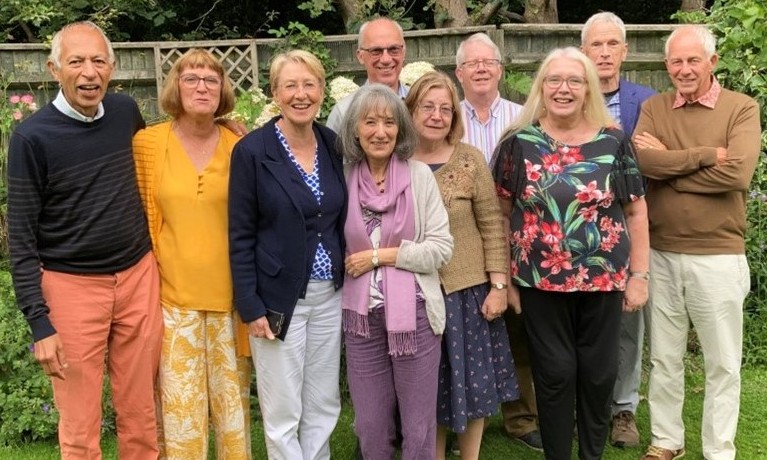 A superb and generous buffet lunch with Alumni friends was held in the glorious garden at Second-Helpings.
Since University days (1969-73 !) a group of our us have kept in contact and usually (Covid excepting) have been meeting up annually.  So from Somerset, Brighton, St Albans, Gaddeston, Nutfield and Tatsfield we gathered to raise a glass to having hit (or about to hit) our big 7 0 birthdays.  The New Zealand contingent were obviously unable to make it this year but we raised a glass to them and to other missing friends.
Amazing food, a wonderful relaxed atmosphere, lots of laughter.
To quote from an email from one of the group "I enjoying every minute of it".
First Corporate Day Event for Second-Helpings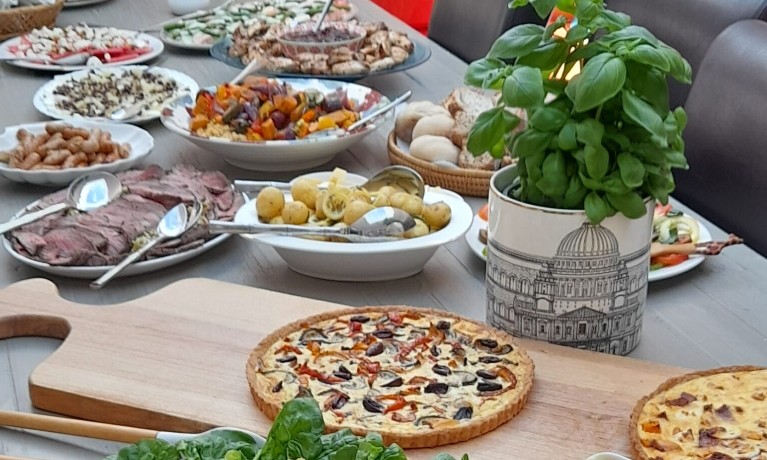 Chapel & York, experts in Philanthropy and International Fundraising, held an away day for staff at Second Helpings. It was a perfect setting for colleagues to reunite after 18 months of remote working. Several new employees also had the opportunity to meet face to face for the first time. Nancy Bikson, Managing Director, said " Having dined at Barbara's on many occasions, I knew it was an ideal venue –  a private, relaxed and beautiful setting for the staff to unwind & catch up, enjoy themselves, eat delicious home cooked food and wonder in the beautiful gardens, and the weather couldn't have been better. Thank you Barbara, we will be back for Christmas! ….."
If you own or work for a small business and are planning an away day or a treat for staff, please do get in touch to discuss options?
Rick Astley fans pop in
for lunch before the races
We had a fab day and thoroughly enjoyed our time with you. Will be recommending to all our friends locally. After a pear, stilton & hazelnut tart starter, the group enjoyed delicious southern fried chicken and ended with second helpings of banoffee pie! After a short rendition of Rick Astley's "Never Gonna Give you Up", they had a brisk walk up to the race course to burn off all those calories 🙂 
Birthday
Celebrations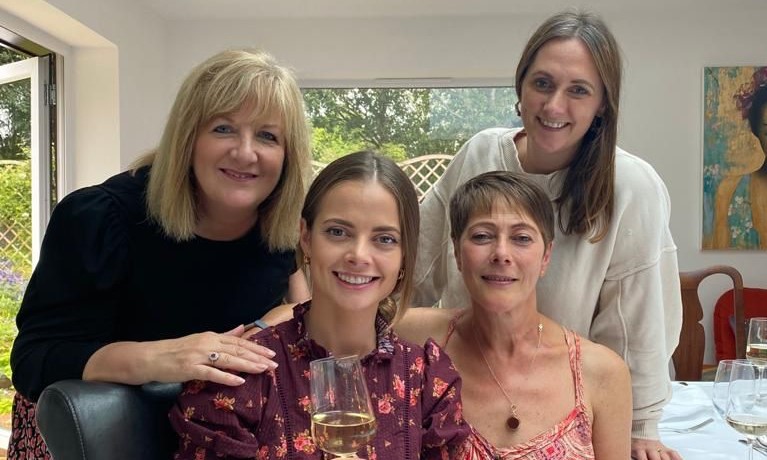 The Dickinson's & Goodwin's splashed out for a special birthday and chose a lobster cocktail to start!!
Followed by TikTok's in the garden (I promised I wouldn't share that!) and serious, competitive croquet playing!
Secret Garden Shopping Event – Saturday 16th October, 2021
Charity Fayre on Saturday 16th October in a Secret Garden – supporting local Charities.
>> Learn more / see facebook event page <<
I am thrilled to be attending this event with other small businesses – I will be selling delicious treats to take home so please come along and lend your support.
Treat yourself or someone special to a different dining experience
Delicious lunches, teas and suppers in a beautiful, private garden away from the crowds.
Fabulous indoor contemporary dining area
Displaying art work by Saatchi acclaimed artist, Barry Wilson
Bespoke Menus
No time restrictions
Bring your own wine – no corkage applies
Don't forget, we are carrying on with our takeaway service too.
>> View Al Fresco Dining @ Second Helpings Menu 2021 <<
>> View our Takeaway Menu <<
Recipe of the Month – Gluten Free Chocolate Indulgence
Crisp outside and fudgy inside, crème fraiche & lashings of fruit!
SAVE THE DATE
Saturday 4th December, 2012
Tess Moore, professional gardener and florist will be demonstrating how to make a stunning wreath for your door and some beautiful table decoration ideas to last over the festive period.
We will enjoy a three course lunch and a goodie bag will be provided to take home.
Cost £35.00 per person.
>> Very limited spaces available. To book your place book here <<